Registration for Sacraments 2024
Our parish has been selected as one of the first to pilot the new Seeds of Faith initiative which looks to create a supported and enriched environment for the religious education of all children in the parish so they are fully prepared to receive the Sacraments of first Holy Communion and Confirmation on their journey with their faith.
We are asking all parents in the parish whose children are to receive First Holy Communion and Confirmation in 2024 to register now with the parish so we can include you in our preparations. This applies to children in Divine Mercy school as well as the educate together and community national schools.
---
Altar Server Ministry
We are seeking recruits from 3rd Class to Second Year. Full training will be provided. We promise that anyone who joins the altar servers will have a safe and rewarding experience. It would be a great way of helping your parish community. You can contact the parish office at lucansouthparish@gmail.com.
---
Singers of all ages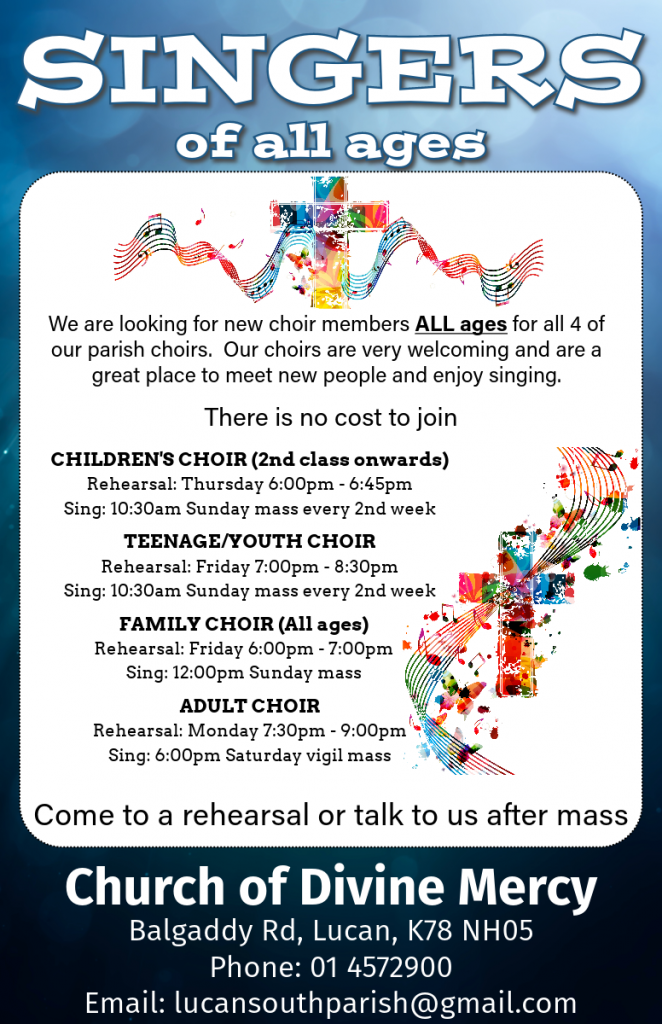 We are looking for new singers to join our parish choirs in the parish of Divine Mercy, Lucan South. Our choirs are very welcoming and a great place to meet new people and enjoy singing together. The choirs are:
Childrens Choir: From 2nd class onwards

Rehearsal Thursdays 6:00 pm to 6:45 pm.
Sing: 10:30 Sunday mass every second week.

Teenage / Youth Choir: From 6th class onwards

Rehearsal Fridays 7:00 pm to 8:30 pm
Sing: 10:30 Sunday mass every second week.

Family Choir: All ages!

Rehearsal Fridays 6:00 pm to 7:00 pm
Sing: 12:00 noon Sunday mass.

Adult Choir

Rehearsal Monday 7:30 pm to 9:00 pm
Sing: 6:00 Saturday vigil mass
Come to a rehearsal or talk to us after mass!
---
Youth Ministry – Divine Mercy Chaplet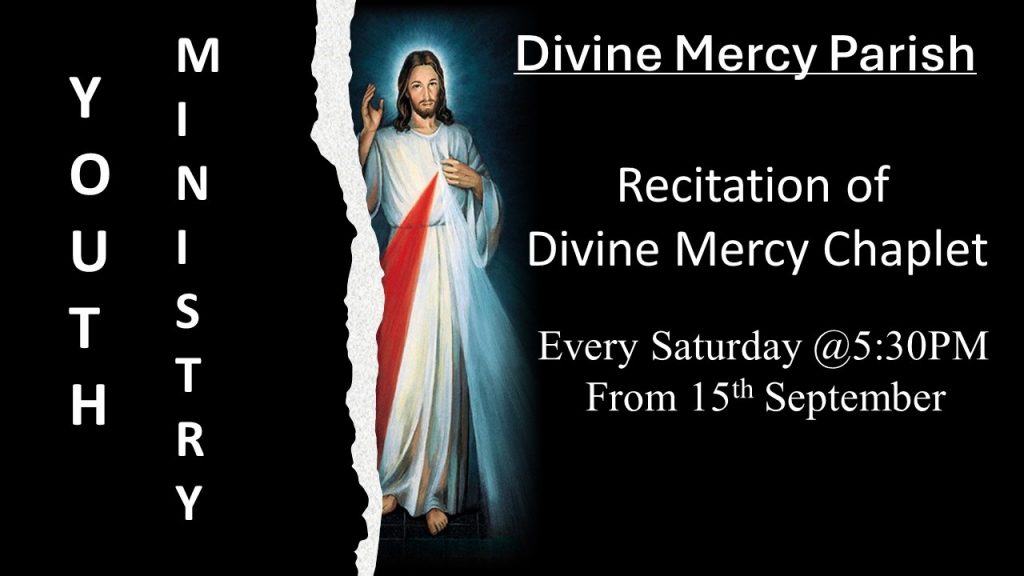 The Divine Mercy Youth Ministry will meet to pray the Divine Mercy chaplet on Saturdays at 5:30pm (before the vigil mass at 6pm) starting on Saturday 15th September. All are welcome.
Then for the month of October in memory of our Blessed Lady the youth ministry will pray the Rosary after 12pm mass on Sundays starting from Sunday 1st October and of course everyone is very welcome to join.
---
Due to unforeseen circumstances, we regret to inform you that we need to postpone this week's planned class on Saturday 9th to the following Saturday (16th). We understand that this may cause inconvenience. We sincerely apologize for any inconvenience this may cause.

New Date: Saturday 16th September 2023
Time will remain unchanged. It will be from 4.45 to 5.45 pm
If you would you like your children and young people to know more about God and the Catholic Faith, we encourage you to take this wonderful opportunity and register them to attend the faith formation classes that would help them to understand and appreciate their faith. They will explore their faith through age-appropriate, interactive activities, discussions etc.
The classes are open for all children aged 6 – 17 years old and takes place weekly on Saturday 4:45pm – 5:45pm starting from Saturday 16th in our Church of Divine Mercy, Lucan. There is no cost for children to attend these classes.
To help us plan the classes we are asking parents/guardians to register their children in advance either online (click image below) or alternatively paper registration forms are available from the parish office.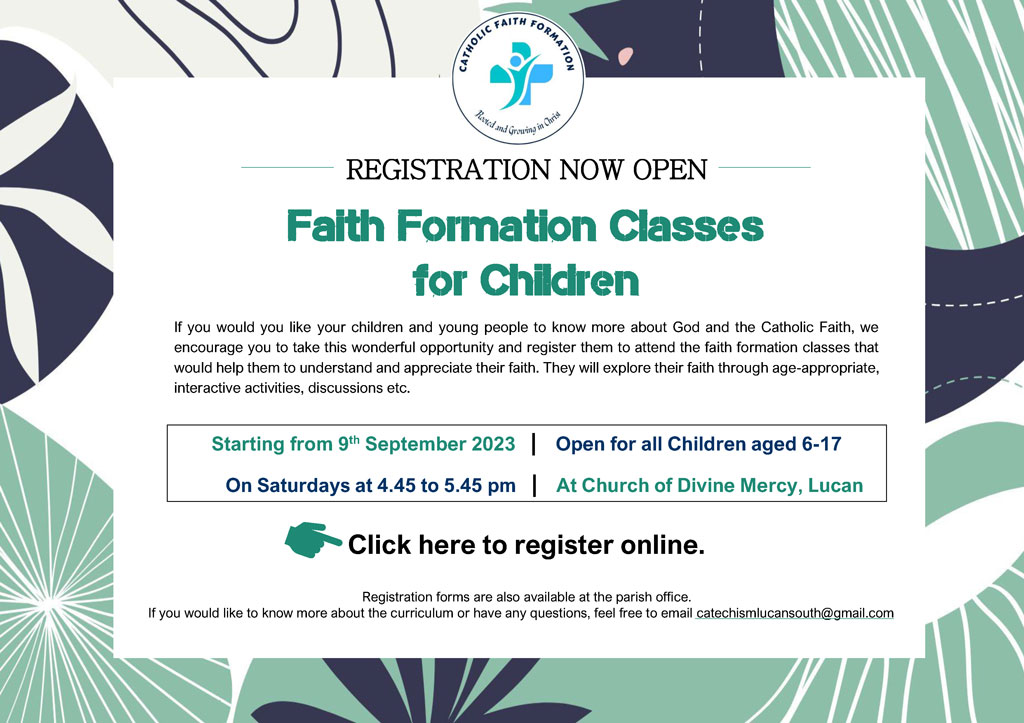 Click here or the above image to register online
If you would like to know more about the curriculum or have any questions, feel free to email catechismlucansouth@gmail.com
---
---
Food Bank Appeal
Divine Mercy Food Bank provides parcels of nonperishable food items to people who need the service. Food parcels can be collected from 11.00 am—12 Noon on Mondays (excluding public holidays) from the Balgaddy Road entrance to the church.
Donations of non-perishable food items are requested from parishioners and can be left in the green containers inside the doors of the church.
This week donations of tinned foods would be especially welcome, e.g. peas, beans, spaghetti, soup, rice pudding, tuna, salmon, etc.
---
The RCIA or Rite of Christian Initiation of Adults, is a process through which non-baptized men and women enter the Catholic Church from 7 years old above. It includes several stages marked by study, prayer and rites at Mass. Participants in the RCIA are known as catechumens.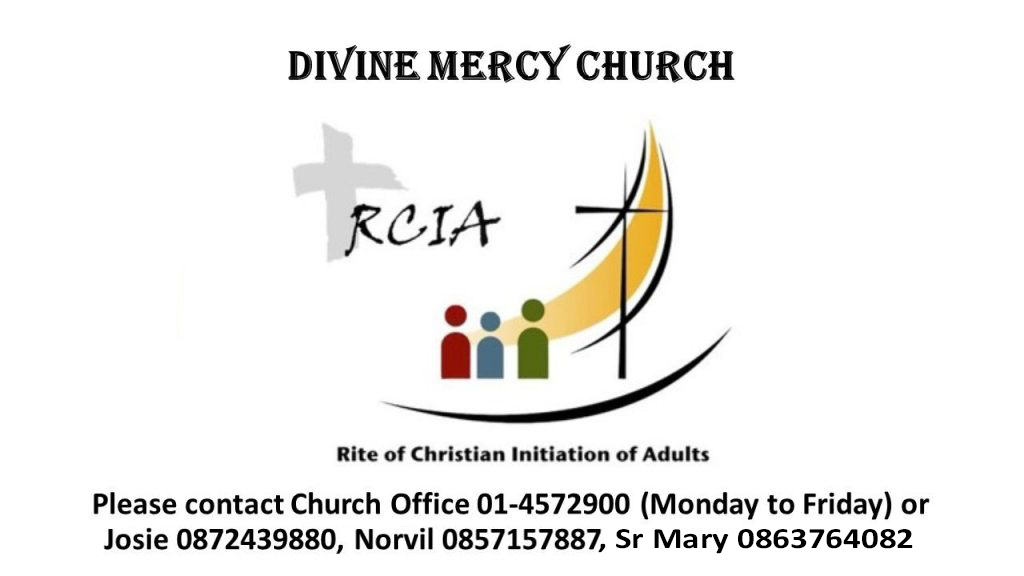 ---
Under our Welcome menu you will find links for the Daily Mass Reading which updates every day as well as Sunday Mass Reading for the following Sunday's mass. It is a great way to be able to read along during mass if you so wish or take time to reflect on the passages during the week and see what message they have for you. One quick note is that if it is a Sunday and you want to see the Gospel for today then click on the Daily Mass Reading link as the Sunday listing will be for the following week.
---
Sincere thanks to all who contribute financially to the Parish. We are very grateful to you for your loyal support.
We now have a DONATE button on the right of our Website where you can make a donation to the Parish or the Diocese. We would ask anyone is able to, to consider making a donation, as the Parish income is at an all-time low. Thank you so much for your generosity in these difficult times.
---