PRIORY INSTITUTE SUMMER SCHOOL
The Priory Institute two-week online summer school will run from July 18 to 29 and again from August 15 to 26. The subject is Mysticism in an Age of Calamity: Meister Eckhart, John Tauler and Henry Suso. The course includes eight recorded presentations and two online zoom discussions and is very flexible as it is delivered entirely online. Find out more and register at www.prioryinstitute.com.
---
PATHWAYS: EXPLORING FAITH AND MINISTRY
Application is now open for the next intake of participants for Pathways. The programme, run by the Dublin Archdiocese, begins this year on Thursday, September 29, in DCU St Patrick's Campus. Places are limited so early application is advisable
Pathways is a two-year, one evening a week course, for adults of all ages who wish to explore their faith. It runs from late September to May each year, with breaks for Christmas, Easter and mid-terms. There are no exams and no written work. The only requirement is an openness to listening to others and to participate. The cost is €400 per year which may be paid in instalments throughout the year.
For more information visit www.missionministry.ie or contact Pathways director Eileen Houlahan, CHF, PhD, at 01 8087594 or pathways@dublindiocese.ie.
---
COURSES AT ST PATRICK'S, MAYNOOTH
Diploma in Arts (Church Music)
Master's Degree in Liturgical Music
---
DCU THEOLOGY SCHOLARSHIPS
Study Theology and World Religions at the postgraduate level at DCU. The MA programme has been expanded to include a strong comparative and interreligious component: it is an MA in Theology and World Religions. The programme will go ahead in the coming academic year on campus, as it did last year. The Theology programme is carried out on the beautiful All Hallows Campus in Drumcondra.
The DCU BA in Theology and Religious Studies is a part-time, flexible programme designed for mature students, and holds lectures on Thursday evenings and a handful of Saturdays throughout the year. Classes are small and academic support is provided for all students. Scholarships are available for new incoming students.
---
SHEKINAH BLENDED LEARNING COURSES
Certificate and diploma courses – in Spirituality/Applied Youth Ministry. Accredited by St Patrick's College Maynooth. Diploma can be done over one or two years. Duration of courses: August 27, 2022 – April 1, 2023. Closing date for applications: July 23. Diploma: 16 Days – 12 on Zoom and four in Maynooth. Certificate: 9.5 Days – 6.5 on Zoom and three in Maynooth. Suitable for Parents, Teachers, School Chaplains and Youth Workers in parish ministry. For further information and application form see www.shekinah.ie.
---
Building Hope
On Thursday 14th of July, we held our parish Building Hope gathering to discuss the future of our parish. We want to say a huge thank you to all the volunteers which made it such a successful evening. A special thank you to everyone who gave their time to be there and help us understand what we are doing well, where we have room for improvement and which parishes we should partner with for the future.
---
The RCIA or Rite of Christian Initiation of Adults, is a process through which non-baptized men and women enter the Catholic Church from 7 years old above. It includes several stages marked by study, prayer and rites at Mass. Participants in the RCIA are known as catechumens.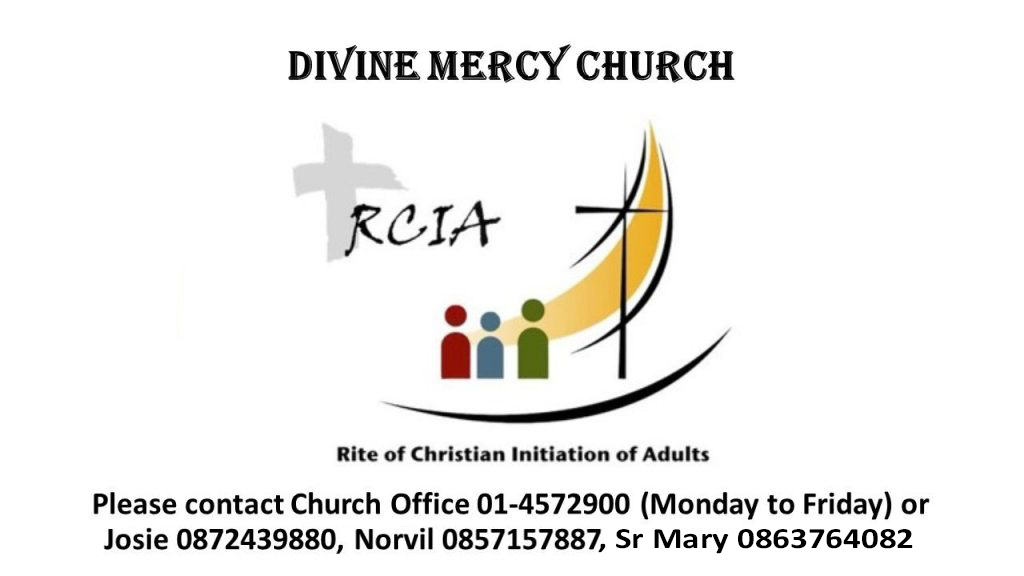 ---
Under our Welcome menu you will find links for the Daily Mass Reading which updates every day as well as Sunday Mass Reading for the following Sunday's mass. It is a great way to be able to read along during mass if you so wish or take time to reflect on the passages during the week and see what message they have for you. One quick note is that if it is a Sunday and you want to see the Gospel for today then click on the Daily Mass Reading link as the Sunday listing will be for the following week.
---
Sincere thanks to all who contribute financially to the Parish. We are very grateful to you for your loyal support.
We now have a DONATE button on the right of our Website where you can make a donation to the Parish or the Diocese. We would ask anyone is able to, to consider making a donation, as the Parish income is at an all-time low. Thank you so much for your generosity in these difficult times.
---