The parish pastoral council is planning for the future development of our parish and has an anonymous survey to hear about any concerns or suggestions you have on how to grow our parish and enrich the lives of all parishioners. All views are welcome.
If you want to know more click here for additional information
---
We are asking parents to register their child with the parish for their Confirmation to help us prepare properly for their special day. This is especially important for Confirmation as we need to update the church records in the parish where your child was baptised so that in the future when they wish to get married there is a correct record of them having received Confirmation. We have an online form to complete that goes to the parish office and a copy will also be emailed to you for your own reference. Please make sure to double check the spelling of your email address. Thank you.
Click here: Confirmation Registration Form 2022
---
Our wonderfully talented parish secretary has put together a weekly parish newsletter to keep you informed on what is happening in the parish each week.
Parish Newsletter not yet available.
We have a children's newsletter with colourful pictures, a quiz and child friendly look at the Sunday mass readings.
For the grown ups there is a weekly "Praying with Scripture at Home" to help guide people into prayer with the Sunday scripture.
---
We have a daily scripture calendar with a thought for the day from Easter to Pentecost – "Walking the Path to Pentecost".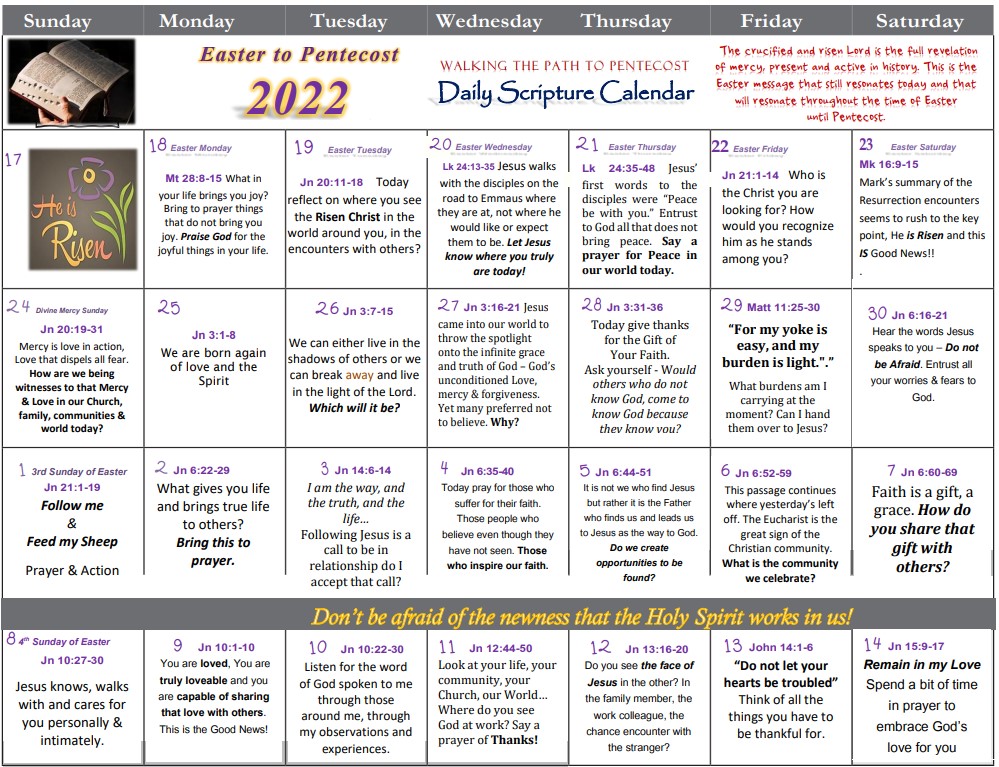 ---
The RCIA or Rite of Christian Initiation of Adults, is a process through which non-baptized men and women enter the Catholic Church from 7 years old above. It includes several stages marked by study, prayer and rites at Mass. Participants in the RCIA are known as catechumens.
---
Under our Welcome menu you will find links for the Daily Mass Reading which updates every day as well as Sunday Mass Reading for the following Sunday's mass. It is a great way to be able to read along during mass if you so wish or take time to reflect on the passages during the week and see what message they have for you. One quick note is that if it is a Sunday and you want to see the Gospel for today then click on the Daily Mass Reading link as the Sunday listing will be for the following week.
---
Sincere thanks to all who contribute financially to the Parish. We are very grateful to you for your loyal support.
We now have a DONATE button on the right of our Website where you can make a donation to the Parish or the Diocese. We would ask anyone is able to, to consider making a donation, as the Parish income is at an all-time low. Thank you so much for your generosity in these difficult times.
---