Step into the spirit of the season and experience the magic of Christmas at our heartwarming Christmas Carol Service on Friday 15th December at 7pm!
🎶 Featuring music from our talented Divine Mercy choirs and musicians
⛪ Embrace the true meaning of Christmas in a warm and welcoming atmosphere.
📅 Date: Friday 15th December 🕕 Time: 7pm 📍 Location: Church of the Divine Mercy, Balgaddy, Lucan
This festive evening promises to be a delightful blend of music, joy, and reflection. Bring your friends, family, and neighbours for a memorable celebration that will set the perfect tone for the upcoming Christmas season.
There will also be a raffle on the night to help raise needed funds for the parish and any donation to the parish would be most welcome on the night.
See you there, and may your heart be filled with the joy and love that the holy family brings at Christmas!
Doors open at 6:45pm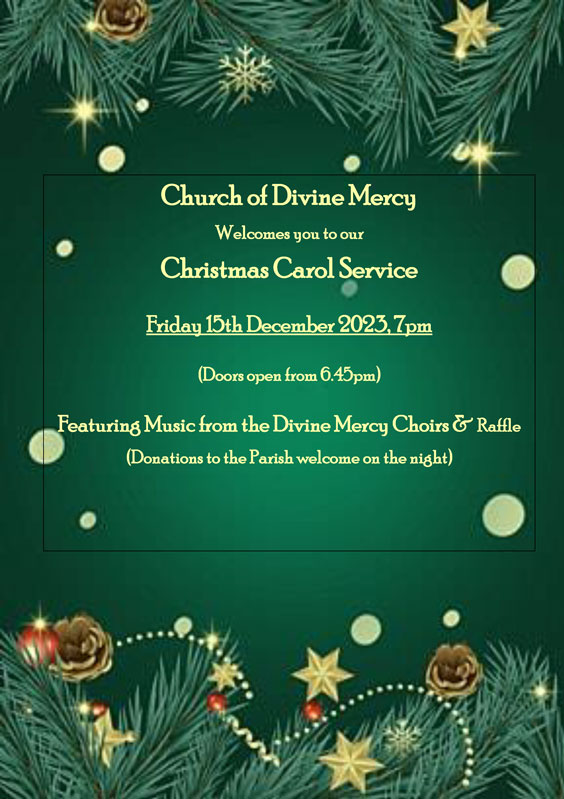 ---
Faith formation classes
Will not be held during Christmas week. Classes will be closed from December 23 and will resume on January 13 at 4:45 pm in the church premises.
---
Feast of the Immaculate Conception of Blessed Virgin Mary
Friday Dec 8th – Holyday of Obligation
Friday 8th December is the Feast of the Immaculate Conception of the Blessed Virgin Mary, a holyday of obligation.
Masses as follows:
Thurs 7th: 7.30pm, Fri 8th: 9.15am, 7.30pm.
Devotions to Our Lady after all Masses
---
Annual Collection St. Vincent de Paul Society 9th and 10th December
The annual collection for the St. Vincent de Paul Society will be the 2nd Collection at Masses next
weekend, 9th/10th December. This will replace the usual SHARE Collection.
---
Below you will find links for making online payments for after school religion classes for children attending non-Catholic schools in the parish. Please make sure to include your child / childrens name and school when you are making the payment.
There are three different links depending on the number of children in your family who are attending religion classes this year 2023-24.
Thank you for your support and we hope that the seeds of faith of all the children will continue to grow and flourish.
The closing date for registering for religion classes for First Holy Communion and Confirmation was Friday 17th November.
Any children not registered for the sacraments will have to wait until 2025.
---
Altar Server Ministry
We are seeking recruits from 3rd Class to Second Year. Full training will be provided. We promise that anyone who joins the altar servers will have a safe and rewarding experience. It would be a great way of helping your parish community. You can contact the parish office at lucansouthparish@gmail.com.
---
Food Bank Appeal
Divine Mercy Food Bank provides parcels of nonperishable food items to people who need the service. Food parcels can be collected from 11.00 am—12 Noon on Mondays (excluding public holidays) from the Balgaddy Road entrance to the church.
Donations of non-perishable food items are requested from parishioners and can be left in the green containers inside the doors of the church.
This week donations of tinned foods would be especially welcome, e.g. peas, beans, spaghetti, soup, rice pudding, tuna, salmon, etc.
---
The RCIA or Rite of Christian Initiation of Adults, is a process through which non-baptized men and women enter the Catholic Church from 7 years old above. It includes several stages marked by study, prayer and rites at Mass. Participants in the RCIA are known as catechumens.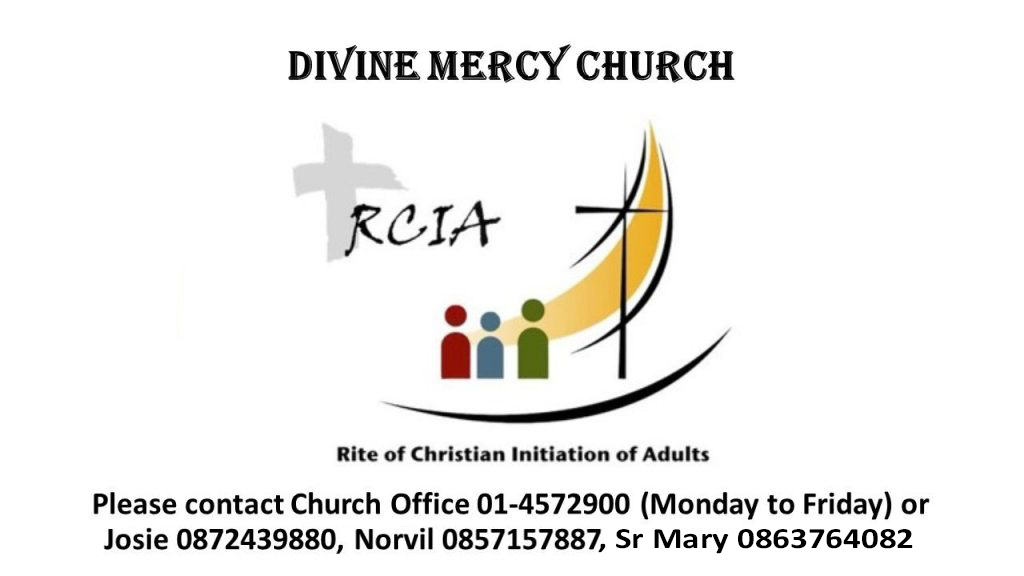 ---
Under our Welcome menu you will find links for the Daily Mass Reading which updates every day as well as Sunday Mass Reading for the following Sunday's mass. It is a great way to be able to read along during mass if you so wish or take time to reflect on the passages during the week and see what message they have for you. One quick note is that if it is a Sunday and you want to see the Gospel for today then click on the Daily Mass Reading link as the Sunday listing will be for the following week.
---
Sincere thanks to all who contribute financially to the Parish. We are very grateful to you for your loyal support.
We now have a DONATE button on the right of our Website where you can make a donation to the Parish or the Diocese. We would ask anyone is able to, to consider making a donation, as the Parish income is at an all-time low. Thank you so much for your generosity in these difficult times.
---